Defining Wi-Fi Network Coverage
The only way to develop accurate wireless path calculations is by performing a physical site survey. This is to identify the performance and the stability of the wireless signal in every corner of your business premises.
A wireless site survey guides the planning process for the wireless network prior to setting any hardware up in a particular location. The ultimate goal of this process is to determine the number and placement of access points to provide adequate signal coverage throughout the premise.
Our professional network engineers will assess the specific needs of your business to provide the most complete WiFi coverage within your facilities. We provide wireless site surveys and heat mapping services to companies in the Pomona, CA area. Inland Productivity Solutions is an experienced wireless site survey company available to assist you with planning a reliable wireless network.
Determine the capacity of the existing networks that can be utilized by the access points like walls with existing LAN ports or Ethernet lines that we can use.
To identify the optimal location for access points, we gather the configuration of the location that impacts signal coverage such as walls, meeting rooms, floor elevations and more.
Access Points Requirements
Every access point is different. They differ in range, signal type, channel, and so on. Our partnership with leading WiFi manufacturers allows us to deliver quality networking products to our clients.
We have been a trusted IT partner for our clients because we show them our commitment to helping them tackle IT challenges they encounter every day. Our service doesn't stop after installation, we'll help support your business beyond that.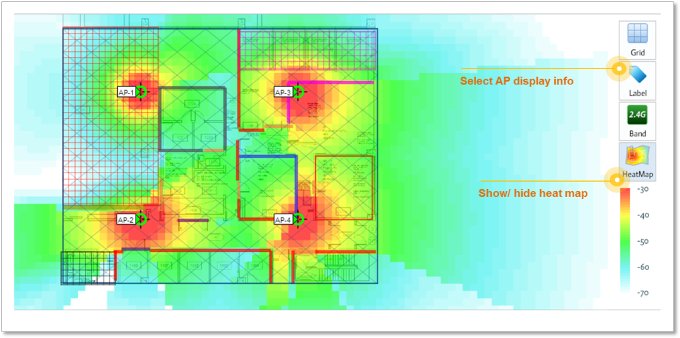 We get the job done.
Our team at Inland Productivity Solutions can assist your company by providing wireless site surveys and heat mapping services and identify the strengths and weaknesses of the network present. Whether it's assessing the level of performance on an existing network, or gathering the information needed for a new high-performance installation, our team can get the job done.