Proudly serving Covina for over 10 years
Inland Productivity Solutions is your trusted, local provider of Microsoft Teams support and Microsoft Teams consulting in the Covina, CA area. When you partner with us, you'll get access to world-class communications experts who will provide a custom Teams solution for your business. Contact us today to speak to a Microsoft Teams consultant.
Microsoft Teams offers tight integration for your success
Chat applications have been a mainstay in businesses for years. However, with the free versions come issues, such as:
A lack of control over accounts.
Difficulty in keeping transcripts and other logs.
With a paid solution, you gain these features and more. Microsoft Teams is quickly becoming the preferred solution for small businesses, and Inland Productivity Solutions can help you implement and manage it successfully.
Microsoft Teams comes in both free and paid tiers. (For this discussion, we'll focus on the paid version.) With most businesses running Windows, Office and email applications, Teams offers a tighter integration than its competitors. As a bonus, if you're an Office 365 customer, you may already have access to Teams at no extra cost!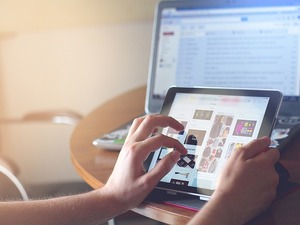 Key features in Teams that will enable productivity
Microsoft Teams is far more than just an instant messenger. It's a full productivity and collaboration tool. Teams offers features like:
Chat - You can have individual conversations or talk in a group chat.
Meet - Teams can replace your current video-conferencing solution. This will further streamline your tools.
Call - Make audio calls with your current phone system.
Collaborate - Your employees can create, share and edit files in real time.
Much more.
Inland Productivity Solutions can help you implement Microsoft Teams effectively
There are two main types of Teams rollouts: staged and full. With a staged rollout, Inland Productivity Solutions will work closely with your team to form an implementation plan one workflow at a time. Most plans usually start with the Chat feature. It's the most common and easiest to install. From there, we'll configure each additional workflow. There's no need to wait for one workflow to be completed before the next begins, saving you time.
Also, if your company currently maintains a legacy switched phone system, our engineers can perform a hybrid configuration. This will allow you to make full use of Teams' calling features while keeping your existing phone system.
If your company is large, or remote as so many are today, we recommend performing a staged rollout.
But if your company is small or new, it may make better sense to complete the installation all at once with a full rollout. Our Microsoft Teams consultants will not only perform the implementation but will also help you pick the right rollout for your company.
By integrating the full suite of Microsoft Teams features, you can enhance your employees' productivity, potentially save money and simplify your technology solutions.
Speak to a Microsoft Teams consultant today
Our engineers are local and will partner with you to fully understand your goals and business before creating a custom plan to implement Teams. Our consultants will also be standing by to help you with any issues that may come up. Give us a call today for a free consultation.